Invitations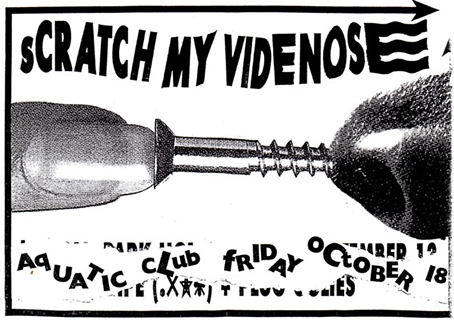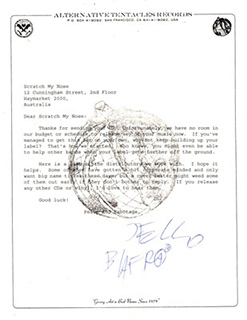 SCRATCH MY NOSE POSTER AND INVITES
If one views the visual manifestations of music, art and performance through posters, Xerox handbills and zines, you would witness the cyclical nature of revolutionary images and ideas. If we look briefly aesthetically across some poster art one can see uninterrupted patterns of radical style eventually tamed and being brought back to a less disruptive cultural form. It then can be rendered a product safe for consumption.
SMN with many of their projects created posters and also sent out to its mailing list some very absurd artefacts to promote their upcoming performances, radio shows and street art projects. Many of these artefacts detached themselves from the landscape of normal forms of promotion. SMN used any disintegrated material of visual culture to pin together there novel aesthetic. In most part, these artefacts reflected the nature of the works they were promoting, unlike many other posters which are an unholy marriage of every conceivable image known to mankind synonymous with, for example, underground rock music.
SMN – FBI Radio Invite (Home & Away)
A promotional postcard for long running Australian TV Soap 'Home & Away' lead by late 1980's teen characters Angel & Shane. SMN hijacked this postcard by spitting chewed-up coloured lollies onto the original postcard. The 3D postcard was then hot sealed wrapped and sent in the mail to the SMN mailing list.
SMN Nosehead Handypak Matchbox
Manipulated Redhead matchbox which carried the image of the SMN illustrative nose design, instead of the graphic of the redhead female from the classic Australian packaging. Inside a larger matchbox was a cassette tape, matches and SMN information which was sent out to a variety of radio stations, writers and people who SMN admired including Sonic Youth and Jello Biafra (response letters in above slide show).
SMN The Big Tissue
The same nose graphic as used for the 'Nosehead Handypak' matchbox was used for the magazine 'The Big Tissue'. The magazine played homage and parodied the worldwide magazine which exists to offer homeless people the opportunity to earn a legitimate income. "The Big Issue" originated in the UK and is now sold in South Korea, South Africa, Japan, Namibia, Kenya, Taiwan and Australia. SMN used the altered magazine as a prop by the Big Tissue vendor for the 'Whippy' performance. It was also used as a poster and postcard invite for the promotion of the same event.
SMN FBI Radio Invite via Phone
SMN also sought other avenues to communicate upcoming shows including the use of pre-recorded sound bites. Below is a script for an invitation to listen to SMN radio show on FBI radio Sydney. These were either played to the person who picked up the phone or the person's answering machine to be heard later.
"Hi this is FBI – Feral Billy Idol ring'in to let you know that Scratch My Nose will be gobb'in at you this Sunday between 11-1 on FBI – 96.9 on the FM dial. I'm so excited I am going to stick my nose here right into this powerpoint – so fuck yous. (SFX – Sound of scratchy records and screams) ARRRRRRRRRRRRRRRRRRRRRRRHH".
SMN Censorship is Torture Poster
Graphic presentation of the censorship issue which was postered on the streets of Sydney. This poster also was also printed as a T-Shirt.
SMN 30th Birthday Slade Invite
SMN hijacked glam rock band Slade's 'Slayed' LP for the invite for SMN's 30th Birthday Party. The party itself was held at HENO studios in Haymarket Sydney and was conducted like a child's party gone wrong with a karaoke soundtrack. Large old gaming tables were decorated by multi-coloured foods which were under lit by strobe lighting. Many patrons were caught by surprise when eating the variety of cakes, jelly, melted ice-cream and lollies where also picking up one of the twenty or thirty snails crawling over the multi-coloured foods. There were also a number of mini art installations throughout the studio space including: Damian Dillon's 'Growler' mini piece of suburbia, the SMN pin the tail on John Howard (then Australia's PM) mural and digital noticeboards with SMN dialogue alongside sound devices including Bundy time clocks punching out thudded sounds every second rather than every minute as it does in factory work places. A number of turntables were also installed behind false walls with scratched punk records repeating over and over screaming tunes.