No loitering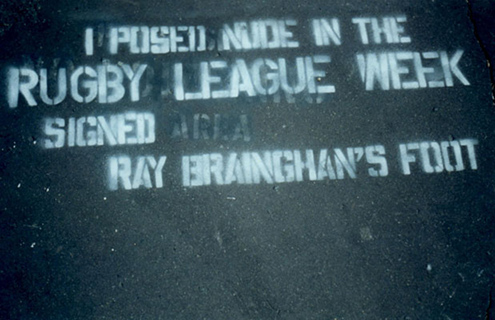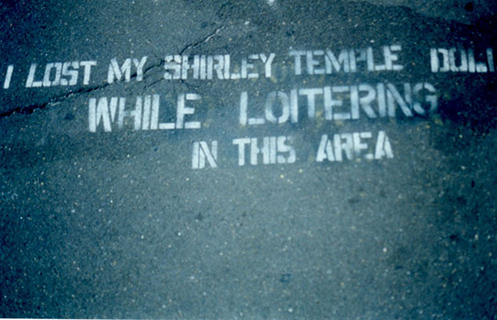 TRIPLE J INTERVIEW – SCRATCH MY NOSE
Steve Cannane talks to Scratch My Nose in Darlinghurst Sydney (2000)
This is a big 'up your's' gate – it is a private gate built on a private road. We are not in America or South Africa – we are in Sydney, Darlinghurst – in the old red light district of Sydney. It is a familiar story – Yuppies move in and in hours of moving in they are complaining about prostitution, live music, pubs, gambling and homeless people – things which are all of a cities character. Yuppies will do anything to improve property prices including what they have done here, (SFX – gate rattling) by putting up a huge gate and locking it with a big chain – ending the hand jobs, head jobs, shooting up which used to go one down this alley way – in a bid to bump street prostitution into someone else's neighbourhood.
The local residents have been lobbying council to make Darlinghurst a 'no loitering area' – whatever that means! In the last year 40 odd stencils saying 'Proposed No Loitering Sign Area' have been sprayed up and down the footpaths. In a response - a graffiti artist who lives in the area and who is part of the art group Scratch My Nose has sprayed his own proposals along the footpaths. So let's find out what he is about:
SMN: Scratch My Nose is a multi-media group that works in many different forms – works in film, sound, performance, radio and obviously we work in street art.
SC: So there has been a bit of warfare on the pavements in Darlinghurst – hasn't there?
SMN: Basically what has actually happened over the last 12 months – there have been signs or graffiti or street art in its own right saying 'Proposed No Loitering Sign Area' – and SMN has seen this as a perfect vehicle to manipulate.
SC: 'Proposed No Loitering Sign Area' is basically saying we do not want prostitutes in the area of Darlinghurst.
SMN: It is saying more than that. It is like - this is the last bastion – this sterile flag has been placed into the established culture of this area. It is saying we are here – our sterile ways are here. The same people who moved into this area are the same people who visited this area or were a part of this areas diverse culture – if it was the gay nightclubs, rock'n roll venues – or if it was just driving up and down William Street pointing at the transvestites.
SC: They have put up there little stencils – spray painted on the footpath – 'Proposed No Loitering Sign Area'. What kind of stencils have you spray painted?
SMN: What we have attempted to do is to use the same typeface, same everything – spray directly over the top of the original graffiti and basically play on the words they have used. For example – "Proposed No Lycra Board Short Area" – like – "Prostitutes Know Loitering Stiffens the Ding-Dang-Ling-Long-Ping-Pong-Poo-Pong-King-Kong-Schlong"
SC: (laughing)
SMN: And that is playing along with a lot of humour which we use in our street art.
SC: Those 'Proposed No Loitering' signs have been there for more then 12 months – some of yours lasted only a couple of days before someone got the black spray paint out and sprayed all over them. Who do you reckon did that?
SMN: To be honest I don't really care who it was - that is the nature of graffiti. It is a pity as it took me 6 months to come up with the 10 or so different interesting responses. But I can always go out tomorrow night and re-stencil – can't I!
SC: (laughing) Does it amuse you in the year that we celebrated Arthur Stace, who basically was a graffiti artist who used to write 'Eternity' around the streets of Sydney. Does it amuse you that – in that year – graffiti laws are getting tougher?
SFX: Sirens
SMN: Of course it is amusing – totally amusing – but on the other side of things – it doesn't matter. Sure one day I will be sitting in Surry Hills Police Station cursing that this has happened to me – but really – you know what you are doing – we are all adults.
SC: Is it arena when anyone can compete – for the price of a spray can or a felt texta you can compete?
SMN: That is the beauty of it. That is the total beauty of working on the streets. You set your own laws – you are not governed by a gallery space or a white cube – you are conformed by these ideals – you make the architecture space yours. There is a great new history of people working in public spaces – where people are bringing performance art – sound art – but not just literal sound art – but grabbing sound out of the airwaves – or prank phone calls. There was great example in the London Underground where someone (Artist – Heath Bunting) found out the phone numbers of all the public telephones and placed numbers on the internet and the phones were rung and became like a musical instrument.
SFX: Spray Can Noise
SC: Does anyone ever confront you when you do them?
SMN: All the time. One night I thought these young bully boys were going to give me a clipping around the ear – but they were just wanting to find out what you are doing in provocative way I guess. They are just wondering why you are crouching down – why you have got spray paint – they probably think you are one of the 'good guys' anyway – as if you have spray paint – you're rebellious aren't you?
Steve Cannane is a news journalist and current affairs reporter for ABC News. He currently presents The Drum on ABC News 24 and is a reporter on Lateline. Previously, Cannane worked as a reporter, producer and presenter for Triple J. He was the founding presenter of Triple J's current affairs program, Hack. Cannane in 2006 won the Walkley Award for Broadcast Interviewing for his Hack stories on "Petrol Sniffing, Pill Testing and the Cost of War.