Pole posters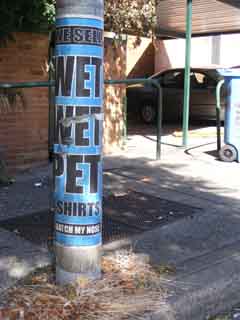 Street art implies that much of it will be illegal. It is an unsolicited intervention into public space which is uncensored, surprising and subversive. Graffiti is a fault line that touches on many divisions within urban culture: public versus private, inner versus outer suburbs, young versus old. But the divisions are not fixed and our current laws seem to be applying a one size fits all approach to this complex and evolving phenomenon.
Scratch My Nose street artworks have appeared in many forms including direct action works onto posters, spray painted stencilled walls and footpaths, high pressure hose stencils, hand written text pieces, billboards, stickers, handbills and street pole posters. All these works would be deemed illegal under current laws in (NSW) Australia.
"… It is an offence under Section 9 of the NSW Summary Offences Act to fix a poster to "premises" or to mark "premises" with chalk or paint or similar material, without the permission of the owner or occupier of the premises. The maximum penalty for both is $400. However, in practice, the police are unlikely to charge you if you are caught postering. They are more likely to demand that you take the posters down, on threat of laying charges. If you don't want to be charged, you'll do this. The usual penalty for graffiti is a fine, plus damages for the cost of repainting the wall.
The NSW Crimes Act offence of malicious damage to property [Section195] is often used for "graffiti crimes". The maximum penalty is five years jail or $5000 or both, but the usual penalty is a fine plus the repainting or repair bill. Penalties and compensation orders would generally be less, say, for chalk than for paint graffiti. However an occasional reactionary judge or magistrate will jail a political graffiti artist. The public spiritedness of your art can help prevent such a severe penalty".
As a graffiti artists SMN continue to work on the fringe, not only of society but also of conventional art society, providing a social commentary on suburban street corners competing with Jennifer Anniston & her 'New Idea', Shane Warne's new 'Face(&)Book' and that Barak Obama who may or may not be a 'Twit(ter)'. SMN text based works are always seeking new avenues to spout their views. Sometimes one might perceive it as right wing and at other times as something quite radical - in the end it is neither one nor the other.